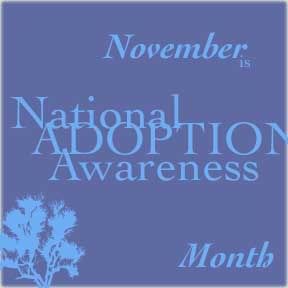 This month I will be blogging every day in honor of National Adoption Awareness Month.
Topics will include:
How to make a difference in the life of a foster child.
Questions to ask before you consider adoption.
Ways that you can support birth parents and help them become the powerful advocates they have the opportunities to become.
A walk through the approval process.
A couple of adoption give-aways.
A special book review.

Any special requests??? email me at adoptionfyi@gmail.com
Near the end of the month I hope to face my own tears and broken heart as I share with you the story of our adoption journey to date, including our very recent second failed adoption.
Please join me in celebrating adoption this month.