Daniel
13 years
(Click on his picture to see his entire profile, including a video of Daneil.)

Legally free, DANIEL (2/96) holds a special place in the hearts of the social workers who have known him during his many years in foster care. He is described as endearing and rewarding, yet needing protection. Among Daniel's endearing traits are his boyish sense of humor, his gentleness with young children, his inquisitiveness and his easy sociability. He is highly motivated to please others and earn rewards. He has many interests, including fishing, drawing, outdoor play and conversation.
Daniel is very eager to find his permanent family. With his out-going personality he has the capability to do well in many different family situations, although a very large family may not be able to meet his needs for attention. Having a dad or a dad figure in his adoptive family who is actively involved in nurturing and parenting would be wonderful for Daniel.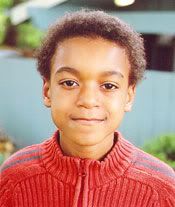 Jason
10 years
(click on his photo to see his entire profile including a video of this adorable boy!)

JASON (3/99) loves to play outdoors, riding his bike, shooting hoops, and playing with others. He also enjoys watching cartoons on TV and coloring. Jason, who needs help in structuring his time, absolutely loves to have adults interact with him – he is very responsive to hugs and affection and to parental encouragement and praise. Jason typically follows parental requests and house rules without any problems. Most of the time, he is happy kid. He enjoys going to school and learning new things. He also has a real interest in being part of whatever is going on in the family – he especially likes to help out around the house and to participate in various projects. A handsome boy with a slim build, large, dark eyes and curly hair, Jason has been described by recent foster parents as loving and wanting to behave.
Brandon
1 Year (almost 2)
(click on this little angle's photo to see his entire profile.)

Legally free, BRANDON (11/07) is a darling baby boy who continues to live in the same excellent, loving, and highly skilled foster home where he was placed following his premature and complicated birth.
While Brandon is able to sit, stand, crawl, walk, play with toys, and feed himself using his hands, he has significant development difficulties, some of which will be life-long.