Several adoption bloggers in the adoption blogging world :) have begun featuring ways that families who are searching for the birth parents of their child can reach out and make their presence known. I love this idea and so, here I go *jumps on band wagon*!
I am passionate (OK- obsessed) with finding. I have spent A LOT of time doing this. Yes, I think it has been worth it, even though we have not yet been able to adopt. We were matched the first time after only 6 months, the average waiting time is 2-3 years. Yes, I have faith in finding.
One of my favorite ways that I have reached out to friends and family (and their friends and family) is through our
facebook group page.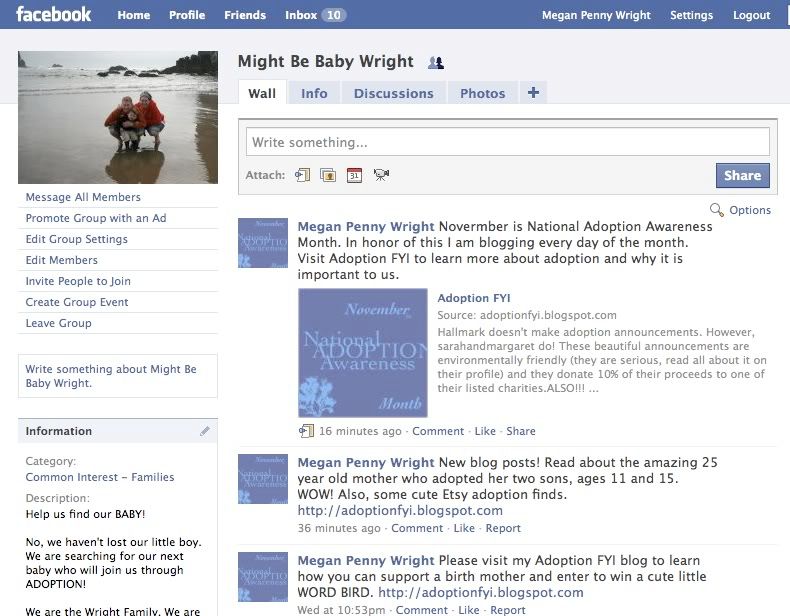 There are currently 324 wonderful people keeping their eyes, ears, and hearts open for the woman or couple who will eventually join our family as birth parents. They are thinking of our family when they hear of a woman facing a crisis pregnancy situation and passing our information along. They are praying for us and supporting us through this often difficult process.
I enjoy sharing the progress of our adoption efforts with our cheer leading team. I share links on touching adoption articles, songs, and situations. I am blessed to be able to help people better understand what adoption is all about.
Go ahead, set up a facebook fan or group page. Start building your own cheering team!
Other Finding Friday Bloggers with great ideas:
The Arizona Experiment
Families Supporting Adoption