Did you miss me yesterday? That's right, I didn't achieve my goal of blogging EVERY day this month. We didn't have internet service for much of the day yesterday. Such is life. . .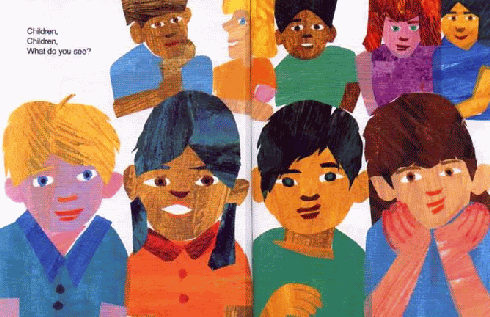 Image (of course) from the (amazing) Eric Carle Book

Brown Bear Brown Bear What Do You See?



Link and I talked to an adoption facilitator today. It was an interesting conversation. Their average wait time is between 2 and 4 months. We don't pay them unless we are matched and if that match falls through they roll over our payment until we have a successful placement. Sounds good right? Well there is a problem. . .
I am bothered by the fact that their fee schedule is based upon race (highest fee for white babies, and decreasing as the combined skin color of the birth parents darkens.) I understand that this is a result of a very high demand for healthy white infants. That fact also bothers me, although I appreciat that most adoptive couples are white and many simply want a child who looks like they do. I don't want assume that people are racist because they want their child to look like they look, but as hard as I try, I just can't help but attribute at least some of that to racism. . . the best I can do is hope that it only accounts for a very small percentage of that gap in demand.
Link and I are open to all races.*
We are all too aware of the potential (likely) difficulties that bi-racial families can face, and we feel that we are prepared to face those challenges. However, I can't fault someone for being honest enough to say, "no, we don't feel like we are capable of handling those issues in a constructive way."
(*except Native American, simply because neither of us is Native American and we can't afford the additional legal fees associated with a likely ICWA mess)
Would it bother us if we ended up paying a lot less money for a black or bi-racial child? I don't know. It would be nice to be able to afford to adopt again sooner because the first adoption wasn't so financially demanding. Would we feel bad if we adopted a white baby and then could not afford to adopt any more children because of the cost?*
* Not taking fee-free adoptions into account, but that is a topic for another time (another time in the near future.)
I know this can be a very emotional topic, so let's all mind our manners, but I would like to ask all of you what you think. . . (feel free to answer any of the following questions or just jump in with your own views.)
Should agencies and facilitators charge the same for the adoption of a black or bi-racial baby as they do for the adoption of a white baby?
What about the problem that many agencies with an equal fee schedule face of not being able to find adoptive families for some of their darker skinned babies?
How do you all feel about the unequal demand for white babies over all other races? Do you think it is fair, right, appropriate for white families to prefer to adopt white children?
What about the lack of Black, bi-racial, Hispanic, Native American, etc. families who want to adopt. . . is it simply a symptom of a social-economic divide or is it something else?
Do you think lower fees to adopt darker skinned children might attract more families of the same race?