We all know that there is a good and beautiful side to adoption, but we rarely talk about the trolls that also lurk in this world.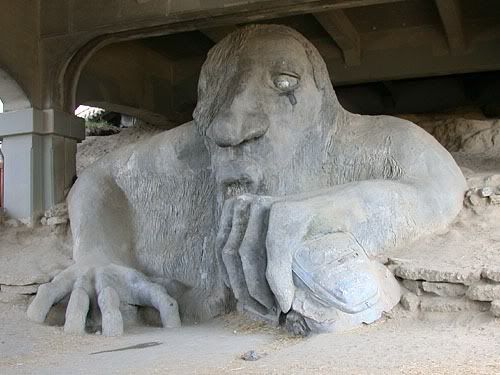 I hope that all of you, especially hopeful adoptive parents, have been reading
Mrs. R.'s account
of being scammed and catching this dreadfully sad girl in her web of lies. Not only did this young woman lie and emotionally manipulate The R. Family, but she did so to at least three other couples.
Link and I have been through our fair share of adoption scams as well. We have become skeptical of all initial contact that we have with potential birth parents. We now scrutinize it in a way that we would have never thought to when we first embarked on our journey.
1. The first thing I do when we receive an email from a pbp is to google their email address and name. Don't stop at the first page, I found the email address of one girl with whom we IMed for a good hour one night buried deep in an adoption agencies' message board they keep for their clients. The poor couple who had posted it had been strung along by her for months.
(She goes by either Amanda or Heather and her AIM handle is DreamAngelQueen)
2. The second thing we do is to check what they are telling us against this helpful website.
http://www.abcadoptions.com/scams.htm
Thank you ABC Adoptions, I don't know anything about you other than you website has saved us from a great deal of heartache.
Here is the information I posted after Link and I were first targeted by a scammer.
The Duke and I have been victims of our first (and hopefully last) adoption scam. No, we were not taken for any money, just taken on a bit of an emotional ride. I am posting it here so that it search-able and other people will be able to easily and quickly discover that this is a scam.



First Email



Name: Melissa
E-mail Address: melissalood1987@gmail.com
Phone #:
Affiliation: Birthmother
Comments: ----------------------------------
Dear adoptive parents i am considering the the adoption of my lovely baby Cerli. She is 6 months old. Due to the circumstances that has brought me to taking this decision which has not been easy, i just wish that baby Cerli goes to a home that she will grow up with parental love and care. I read through your profile and was strongly moved so i decided to contact you since you would be very good adoptive parents for baby Cerli. I will wait to here from. Here is my email address you can contact me for more information.have a nice day.



Second Email



Good day ***** and ******,
I want to first of all ask how you both spent your weekend ?
Baby Cerli is doing find and she can't wait to be in her new home.
I stay in East Sussex ,in a place called Brighton . It is a nice place
but i do not really like it much. Brandon(Cerli's father) died a few
weeks after his right were terminated . He had a car crash, I really
don't want to talk about it since it makes me feel really bad , It is
sad situation we have,
About my family , I am the first from a family of three and the only
girl , my father is on a wheel chair and lives with my brothers in
Ireland ,My mother died while i was still in High School. They are all
supportive on my idea about considering Adoption for baby Cerli,
I also have some questions to ask both of you as well. I think this
would make us get to know each other very well too. Since i am
considering you as Adoptive Parents for baby Cerli ,i would like to
know the following information about you :
What state do you live in?
What religion are you?
Do have have any other children?
Why do you want to adopt?
How do your family and friends feel about adopting children?
Do you have any pets?
What kind of schools do you intend to send baby Cerli to?(private / public)
How did you and Lincoln meet?
How long have you and Lincoln been married?
How big is your extended family?
What do you do during holidays?
What are your hobbies?
Are you willing to give me the type of contact Such as visits,
pictures, videos, letters, etc after Adopting?
How often ?
I am really sorry about all the questions but it is a hard decision i
am making and i want the best for baby Cerli , that is why i am taking
time to ask all the questions which would make me get to know the kind
of couple and family you are , and also the kind of home baby cerli
would be leaving for.Please also feel free to ask any information or
questions about me or baby Cerli , i would be very happy to answer to
your questions. I have been discussing with mr willian connor a lawyer
helping us through this adoption process . He promise to get in
contact with you and ******* .
Hope to read from you soon.
Melissa Mckayla.
You will notice that these two emails were riddled with red flags that are mentioned on the ABC Adoptions site.
3. We contact our case worker or lawyer (depending on the situation) and ask them to verify pregnancy.
4. We pray and we listen to the Spirit.
I will add another one here that was pretty obvious from the get-go.
Name: kelly amber
E-mail Address: kellyamber02@yahoo.com
Phone #:
Affiliation: Birthfather
Comments: ----------------------------------
hello, my name is kelly amber from belgium. saw your profile. i am 18 years old and my girlfriend is much younger. she got pegenant and because we are God fearing people we decided not to put away the baby, but bless a family with it. we want a family who will teach this baby the right morals of life and let him know about God. we are giving away this baby because we dont consider ourself fit to take care of him we are still too young and we want to further our studies. this baby will be born in 2 months. can you please get back to us . my email adress is kellyamber02@yahoo.com

I hope that none of you ever have to go through a long, emotional, and drawn out experience with an adoption scam artist. Be aware, be alert, and be careful. Our miracles will find us in God's due time.